I borrow the book synopsis, index from Sin Chew web;
政治寓言-丁贤说故事
簡介:
丁賢話說從頭:


沒有故事,那會是多麼乏味的人生。
故事是前人的經驗,然而,對照現代,竟然有很多的共同處;有時,用古人和別人的視角及經驗,可以看得更深入透徹,也取得更寬廣的視野。
故事,其實很有力量。
歡迎大家走進故事的世界,和我一起分享對新聞、生活和生命的體驗。

凱林拉斯蘭(Karim Raslan)回應:
他結合東西方的教育背景,讓他累積了多元而不凡的經驗,以及跨越國界的全球視野,從而激發出一種獨特的馬來西亞觀點。
丁賢的文章結集成書,來得正是時候,也有重要的價值。本書來自《星洲日報》最傑出之一的編輯/作者,我吁請所有馬來西亞人來閱讀,進而思考我們國家的複雜一面和豐富的內涵。
目錄:
輯一:我有錯嗎?我錯在哪裡?
輯二:豬不可能變小鳥
輯三:大選灌籃
作者簡介:
鄭丁賢——生于馬六甲。培風中學、台灣政治大學新聞系畢業。
英國蘇格蘭史特格萊爾大學碩士。
從事新聞工作二十幾年,目前擔任星洲日報副總編輯。
他的作品得過多次新聞獎。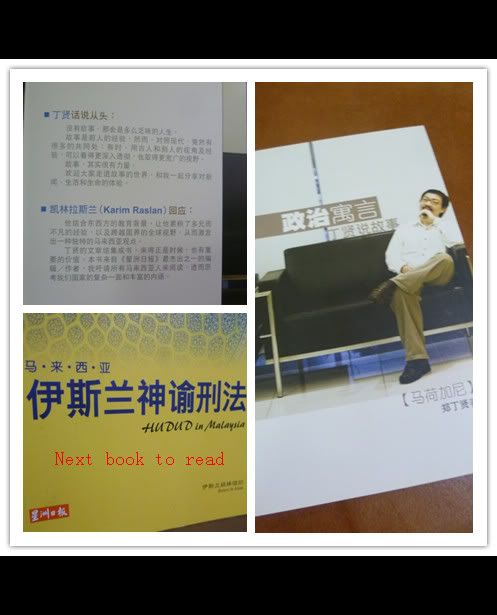 KOS;
Yesterday i done reading this book, 政治寓言.
It is good, fantastic.
I like the way writer talk about Malaysia politic, economic, environment, education and story.
From his book,we read unique perspective, and start think something from different view.
His writing is easy to understanding and digest as well, i always trap in the Midst when reading certain politician book because there are so many terms, peoples, and issues that i have no an idea at all.
Thank you 鄭丁賢, SinChewDaily for the book. Thanks
Next book i going to read is "Hudud in Malaysia", will be an interesting book right?
Check it out!